The Plan
In the month of October-2015, while returning from my first trip to Mishmi Hills with Anupam, Siddarth and Swapnanil, I expressed my desire to comeback to this area again. "How about December?" a quick reply from Anupam was the initiation of our plan and for next two months we prepared ourselves to convert this plan into a successful trip.
I started gathering information from various sources about the weather of Mishmi Hills during winters (especially for December and January). Though "GOOGLE" was the primary source, I spoke to my seniors and fellow birders. "If you see a person wearing only a light T-shirt in Dibrugarh during the month of December and January, then for sure he must have come back from Mishmi Hills recently" a single line description on Mishmi weather by Tridib Hazarika da, my friend, philosopher and guide. My online shopping burden was reduced by Decathlon, Guwahati. By December 15, I was almost ready with all the preparations.
♦  Railway ticket : done – I was travelling from Guwahati to Tinsukia by Rajdhani Express. Overnight Journey.
♦  Camera bag    : done – The most essential bag for my trip.
♦  Warm cloths   : done – To keep myself warm from the cold wave of Mishmi Hills (altitude 2655 mtrs)
♦  Sleeping Bag   : done – For a goodnight sleep during winters.
** This trip was led by Anupam, so rest of the arrangements (i.e. vehicle, food, lodging etc.) were done by him.
The Journey
Day 1: December 23, 2015
I started my journey from Guwahati Railway station. The train was on time. At around 6:00 PM the train entered the station and in next 10 minutes I was in my allotted seat. It was AC-2 tier, lower berth. An elderly lady was my co-passenger for the night. After keeping all my bags properly in position I sat down by the window to say goodbye to Guwahati for next few days.
As the train was leaving the station slowly, my mobile rang. It was Anupam, confirming my journey and expected time of arrival at Tinsukia station (i.e. 3:35 AM). As I had a long ride in the morning, so planned for an early sleep and had food (packed by my better half with love). Put the alarm ON (at 3:00 AM), at the same time activated the railway service of wake-up call & destination alert and hit the bed.
Day 2: December 24, 2015
Woke-up with the alarm, finished my morning duties and got ready to disembark at Tinsukia Station. In next 15 minutes train reached the station. I got down and started walking towards the exit gate. Anupam with a warm welcome took me to the vehicle (Mahindra Scorpio), where Siddarth (my co-tourist) and Jibon (the Driver) was waiting.
After morning tea in a nearby stall our road journey towards Mishm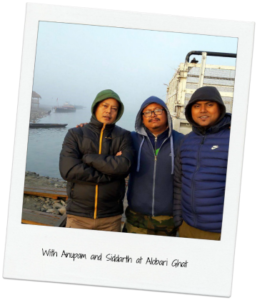 i Hills started. For reaching Mishmi, out of two routes (one is via Dhola Ghat and the other one via Alobari Ghat) we chose the Alobari Ghat route and reached the river bank by 6:00 AM. Before reaching the Ghat (where we will board the boat) we need to cross a rocky bed. The morning fog was dense in that area, so it took little more time than usual. At the Ghat a boat (a wooden boat with 6 cylinder engine and have enough space to accommodate 3 SUVs at the same time) was ready to take us to the other side. It was amazing to see the co-ordination between the engine operator and the helmsmen, with the help of a small "Beep" sound. In no time we were on the other side of the river Lohit. (I appreciate) The courage of the vehicle drivers, who drives in and out of the boat (that is floating on the water) on two wooden planks, by relying on hand signals. Small shops that sell rice, roti and fish had just opened for business. After a heavy breakfast (rice, dal, and fried small fish) we left for Roing, the headquarter of Lower Dibang Valley district (the town just before entering Mishmi Hills). On the way Anupam asked the driver to stop the vehicle near a patch of grassland. A pair of stonechats was playing around. We got down from the vehicle but not giving any importance to that pair and looked around for something else. I got surprised when they told me that it is a White-tailed stonechat (a lifer for me). Took some pictures and we were on the road again.
By 9:00 AM we reached the town of Roing where our local guide Ravi Mekola was waiting for us. After a quick tea at a restaurant in Roing, we crossed the rocky bed of Deopani River (this river is almost dry during winter) and started to climb the hilly road. After driving uphill for 5-6 KM drive Ravi signalled Jiban (our driver) to stop the vehicle. We saw Rusty Fronted Barwing, Golden fronted barbet, Great Barbet. Suddenly Ravi told us that he heard the wing flaps sound of a hornbill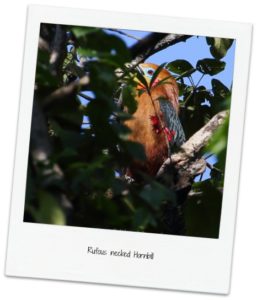 from the back side (un-believable? believe it). At that moment, we were facing the hill and our back was towards the slope of the hill. On the edge of the road there was a big tree. Ravi pointed towards the tree and told us to look for something reddish. Anupam Spotted it for me and I took a few shots. That was a Rufous-necked Hornbill sitting in a branch partly concealed amongst the  leaves. I felt sorry for Siddarth as the hornbill took-off before he could click. We continued walking for some distance. On the way we found Scaly breasted wrenbabler, Rusty fronted Barwing, Spotted Forktail.
It was 12:30 PM, when we reached Tiwari Gaon (a small village with about 20 houses), had noodles (as lunch) and tea. Our uphill journey continued. On the way we saw Golden Babbler, Himalayan bluetail, Black throated Sunbird etc. At around 4:30 PM sunlight faded but still almost 7 KMs journey was left for the day. As the darkness started embracing the hills, the activity of nocturnal birds increased. We were very hopeful of getting sight of them. After sometime Anupam stopped the vehicle and requested not to switch off the vehicle's head light. We got down and started to walk towards the subject. It was a grey nightjar. Took one or two photographs from a distance. All of a sudden the subject flew away. Tiredness of whole day journey can be seen in our faces (in-fact almost 24 hours journey for me) and at the same time the cold wind hit our exposed skin like sharp needles.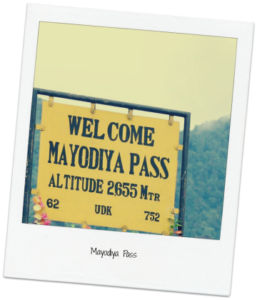 Reached coffee house (a fully furnished lodging facility near Mayodiya pass) at around 7:00 PM. Took our bags from the vehicle and went inside quickly to avoid freezing. Plugged camera batteries to the charger. The main source of electricity was a generator, that's too run for only 4 hours. Dinner was served. By the time we finished dinner all the batteries were charged. We put all batteries and mobile phones (there was no mobile network in that area, but in some pockets across the road you might get mobile network of BSNL) inside our sleeping bag to keep them warm and avoid dis-charging. In no time I fell asleep.
Day 3: December 25, 2015
We woke up at around 4:00 AM. It was freezing outside the sleeping bag. Peeped through the window, it was still dark outside. I took the toothbrush and went to the kitchen for some hot water. Two guys inside the kitchen was busy in making breakfast for us. By that time Anupam had also joined me to get hot water. We freshened up and got ready for the day. Siddarth was bit slow but still managed to keep the pace with us. Jiban, our driver was smart enough made the vehicle ready for drive. By 4:30 AM we finished our tea and reached the vehicle. Breakfast was packed for us. Near the vehicle we saw small dew droplets on the grass that turned into ice were like glittering diamond in the light of our head-lamps (it is recommended to have a head-lamp while in Mishmi Hills). We sat in the vehicle and started towards Mayodia pass. It took only 15 minutes.
At Mayodia pass, I saw snow fall for the first time in my life. Both sides of the road was covered with thick soft snow. In the middle of the road there were two distinct tracks (left by vehicles passed by) where the snow transformed into ice and became slippery. Frozen water from the rocks took different shapes, some were like spearheads. We walked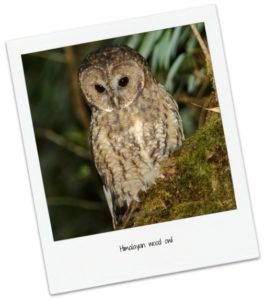 through the icy road looking for Sclater's Monal. Heard the call from a distant mountain but not lucky enough to spot one. As the sun came up, I felt the warmth of early morning sunlight after a long time. We had breakfast by the roadside.
The entire first half of the day we trekked and looked for different species along the road. Had lunch at 65 (a location named such as it is located 65 KMs away from Roing) with Rice, Dal, Sabjee and Pork meat. Post lunch we saw Slander billed Babbler, Golden naped Finch. On the way, while crossing a bamboo grove, heard the call of a Hill partridge. Spent almost an hour in an opening within the bamboo forest. Suddenly a Hill partridge crossed through the opening and disappeared in the thick bamboo forest. It happened so fast that none of us could manage to take a picture. By 4:00 PM we were back to Coffee House. After having evening tea, we were ready for night birding. The target species was Grey nightjar (that we missed yesterday night), which this time we found easily on the road. On the way back to coffee house we were lucky enough to see a Himalayan wood Owl. At 8:30 PM we finished dinner and hit the bed.
Day 4: December 26, 2015
After hearing the call of Sclater's Monal yesterday morning, we were hopeful of getting a glimpse of this beauty. Reached the same spot but no such luck. Today our plan was to go downhill towards Tiwari Gaon after breakfast.
On the way to TG, Ravi stopped the vehicle near a bridge with a waterfall. We got Daurian redstart, White capped water redstart, Spotted Forktail. I took a few record shots (these subjects were at a distance) and went towards the vehicle. All of a sudden Anupam shouted "TROGON". His utterance had the effect of an electric shock in me. Without a~ second thought I ran towards Anupam. A pair of Wards trogon flew away over our head and landed in the bushes below the cliff. Ravi and Anupam spotted the male sitting in a small branch around 10-12 mtrs below the road level. It was very difficult to take a clear shot as several branches obscured my view. Somehow I managed to take a record shot of that desired species.
We walked for some time. A flock of Black throated bush tit was jumping here and there in a small size tree near the road. In the opposite direction we saw three streak breasted scimitar babbler. On the way we saw a huge number of Mithuns (an animal same as Gaur, local name Mithun. They belong~ to the local peoples but grazes in the jungle. Local people used them as a source of meat) in an open area near the road. The pointed horns were scary but the flock of Yellow cheeked tit, and Green backed tit makes me brave enough to stand near them and click photos. By the evening we tried Frogmouth, but could not find one. On the way back we found Collared Scopes Owl. Our trip for the day was completed at around 8:00 PM.
Day 5:  December 27, 2015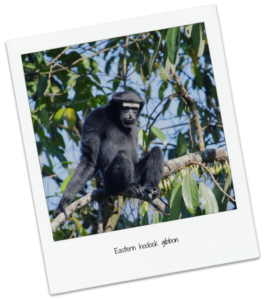 Like the previous days, we spent looking for the Sclater's Monal in the morning hours. It was the last day of our trip. After 2 hours of fruitless trekking in the snow we came back to the coffee house and had breakfast. A Winter wren was calling near the coffee house and posing in front of our camera in the broad day light. After this lovely farewell we start for Roing at around 10:00 AM. On the way we found, Plain backed thrush, Green tailed sunbird, Golden babbler and a pair of Eastern hoolock gibbon. Said goodbye to Ravi at Roing and set off for Alobari Ghat. At the ghat our boat was ready. On the other side we had late lunch. By 8:00 PM we reached Tinsukia. The train was at 9:30 PM so we had enough time to have a dinner together. The train was on time, I board the train and finally my trip ends.
Thanks to Anupam for arranging such a lovely trip, Ravi for making my trip interesting and Siddharth for accompanying me.
Mishmi Hills calling ……….. Again!
Start Date                            : 23-December-2015
End Date                              : 27-December-2015
Trip start & end Location : Guwahati
Destination                          : Mishmi Hills
Participants                         : Nilutpal Sonowal, Siddarth Sahu, Anupam Nahardeka and Ravi Mekola
White tailed Stonechat
White throated Fantail
Himalayan bluetail
Black throated Sunbird
Yellow bellied Fantail
Rufous breasted bush Robin
Black eared shrike
Ashy throated warbler
Rufous face warbler
Manipur wedge billed Babbler
Chestnut crowned Laughingthrush
Striated Laughingthrush
Rufous necked hornbill
Spotted Forktail
Rusty fronted Barwing
Scaly breasted wren babbler
Grey nightjar
Himalayan wood Owl
Winter Wren
Streak throated Barwing
Stripe throated Yuhina
Dark Breasted Rosefinch
Hill partridge
Black faced Laughingthrush
Golden throated babbler
Rufous capped babbler
Crimson browed finch
Gold napped Finch
Fire tailed Myzornis
Blue whistling Thrush
Yellow billed blue Magpie
Alpine accentor
Slender billed scimitar babbler
Streak breasted scimitar babbler
Grey headed bullfinch
Yellow browed tit
Dark rumped Rosefinch
Rufous vented tit
Black eagle
Rufous breasted accentor
Grey sided bush warbler
Collared owlet
Plain backed thrush
Black throated bushtit
Green tailed sunbird
Golden babbler
Yellow throated fulvetta
Beautiful Sibia
Collared Scopes Owl
White capped water redstart
Durian redstart
Rufous gorged Flycatcher
Green backed tit
Great Barbet
Yellow cheeked tit
Maroon backed Accentor
Oriental Honey buzzard
Goosander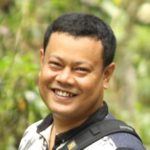 Nilutpal Sonowal
A wildlife photographer and a bird lover from Guwahati in Assam. By profession he is an Engineer but always love to be in wild in his free times. At home he is a responsible father of two adorable sons, a caring husband and an obedient son.